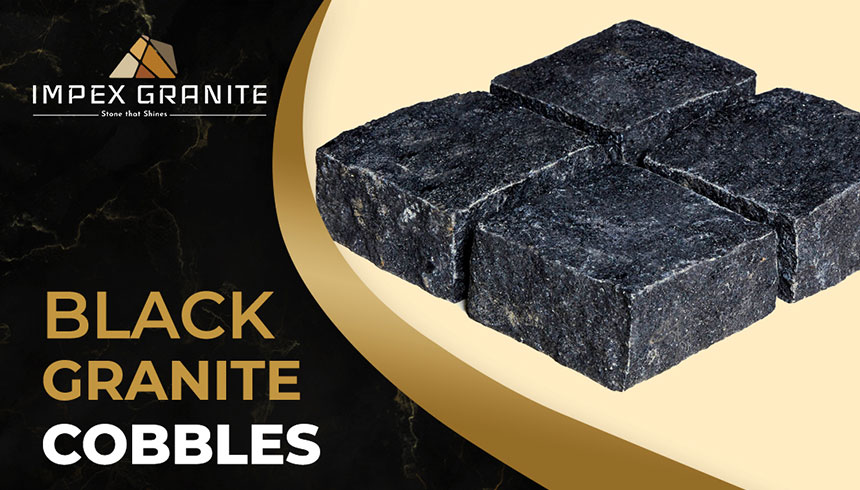 Black Granite Cobblestones
Welcome to the exquisite world of Impex's premium-quality Black Granite Cobblestones. Nothing matches the timeless appeal of these cobblestone pavers for improving the appearance and usability of your outdoor spaces. We take immense pride in presenting our finest quality granite cobblestones, which are not only visually appealing but also add a dash of luxury to your home.
Black Granite Cobblestones are a natural type of stone that is specially used for outdoor applications such as paving and landscaping. Its versatile and durable nature can endure harsh weather conditions and crowded pedestrian activity.
We'll also highlight how crucial it is to choose the best manufacturer or supplier of Granite cobblestones to make sure your project is a success. Our Black Granite Cobblestones are ready to bring your idea to life, whether you're thinking about a cobblestone driveway, a stunning garden walk, or a welcoming porch.
Understanding the Beauty of Black Granite Cobblestones
Cobblestones are made of Absolute black granite and are proof of the classic beauty that natural stone can provide to your outdoor settings. They are a perfect choice for a variety of landscaping projects because of their stunning deep black color, which oozes richness and sophistication.
Characteristics of Granite Cobblestones
Utilization:

 They are mostly used in outdoors, such as garden pathways, patios, pool decks, etc. They enhance outdoor areas and are excellent for both residential and commercial applications because of their robustness and elegance. They can be used indoors, but only in a specific style.

Slab Gauge:

 The use and function of a slab entirely determines its thickness. It's also the most important factor. With varied degrees of load-bearing ability, it can range from thinner slabs (about 1-1.5 inches) for paths and aesthetic uses to standard thickness (2-3 inches) for driveways. For high-traffic locations like commercial driveways, thicker (3–4 inch) slabs are utilized to provide strength and endurance.

Low Maintenance:

The black cobblestones are low maintenance themselves. To eliminate rubbish and dirt, just clean on a regular basis with mild soap and water. To prevent stains, sealing could be necessary, especially for outdoor use. Resealing the stone on occasion keeps it looking good. In general, careful maintenance keeps the stone looking good and increases its lifespan.

Textural Finish:

Finish is the term for the surface treatment applied to black granite cobblestones, which affects both appearance and usage. Common finishes include flamed for a rough texture, polished for a glossy appearance, honed for a smooth matte appearance, and bush-hammered for increased slide resistance. The preferred style, safety factors, and the particular application, whether indoors or outdoors, all influence the finish decision.
Timeless beauty
Superior Endurance
Non-slippery surface
Waterproof
Customized
Classic Aesthetics
Historical Significance
Eco-friendly
High Density
Flexible to any design
Specifications Black Granite Cobblestones:
| | |
| --- | --- |
| Texture: | Smooth, honed, sandblasted, Bush-hammered, etc |
| Color: | Deep and Dark Black |
| Finish: | Diverse |
| Usage: | Outdoor |
| Thickness of Slab: | Thin, Thick, Standard and customized |
| Maintenance: | Low |
| Durability: | High- Long run |
| Aesthetics: | Elegant |
| Origin: | Global |
Common Applications of Black Granite Cobblestones
Driveways:

 A cobblestone driveway makes a statement of beauty and sophistication in addition to serving a practical purpose. Guests will have a lasting impression of your driveway once they see the classic appeal of black granite cobblestones.

Garden entrance and pathway:

 Use these cobblestones to define garden beds, make elegant edging for roads and paths, or construct borders. Your garden has an enchanting appeal from the contrast of the black cobblestones with the lush greenery and vibrant flowers.

Bathroom Vanities:

 Due to its durability and resistance to moisture, it is an excellent choice for bathroom vanities, adding a creative and luxurious touch.

Patios:

Create comfortable outdoor living areas. These cobblestone pavers offer a sturdy and attractive base, whether you're constructing a comfortable patio or a stunning courtyard.

Pool Decks:

These cobblestones are the perfect material for pool decking due to their non-slip finish. As you relax by the pool, you may do so in safety and luxury.

Pathways:

Add attractive paths to your outdoor space to improve utility. With the help of black granite cobblestones, your landscape is given a defined path that looks excellent overall.

Footstone:

These granite cobblestones can bring life to your home because they add charm and uniqueness. They are also used as stepping stones.
Mechanical Properties of Granite Cobblestones
| | |
| --- | --- |
| Compressive Strength: | 20,000 to 30,000 psi |
| Tensile Strength: | 1,000 to 2,000 psi |
| Flexural Strength: | 1,200 to 2,500 psi |
| Abrasion Resistance: | high abrasion resistance |
| Porosity: | porous by nature |
| Weather Resistance: | highly resistant to weathering |
| Coefficient of Friction | have good slip resistance |
Why choose Impex's Black Granite Cobblestones as your granite supplier?
Cobblestones made of black granite combine amazing resilience with enduring attractiveness.
Their rich black color gives outdoor projects a touch of elegance.
Driveways, pedways, patios, and pool decks are a few examples of versatile usage.
The non-slip surface of these cobblestones improves safety.
Natural differences in texture and design make each cobblestone distinct.
They are a sensible and affordable option due to their low care needs.
As your trusted granite supplier, Impex Granites is proud to expand our offerings to include these stunning and durable cobblestones. Crafted with precision and sourced from top-tier granite cobblestone suppliers, our products guarantee unmatched quality and aesthetic appeal. Whether you're designing a timeless pathway, an elegant driveway, or a charming patio, our granite cobblestones add character and endurance to any outdoor space. Elevate your project with the natural beauty and resilience of granite, backed by the expertise of a leading granite supplier. Explore our diverse range today and transform your outdoor vision into reality.