Black Granite Maintenance: Tips For Cleaning & Sealing Granite Countertops
In terms of aesthetics, granite is far more beautiful than stones like marble, sandstone, quartzite, and others. As a result, it ranks as one of the best options for prepping kitchen counters. Absolute Black granite is a popular option in the building sector due to its simple accessibility in terms of colors, sizes, finishes, surface patterns, and designs.
Absolute Black granite is often used for a range of household and commercial applications, including flooring, wall coverings, kitchen counters, cabinet tops, granite monuments, and gravestones, due to its improved durability and ability to tolerate a very fine polish.
The black granite needs to be maintained periodically in order to maintain its timeless beauty, to maintain its elegance and its consistent appearance. Every granites have its own features that determine how they are to be cleaned and maintained. Depending on the specific kind you choose, they are handled differently.
How to maintain Black Granites?
Black granite is one of the most popular choices among the several countertop options for kitchen or bathroom that offer a stunning appearance. It is an excellent option for homeowners wishing to increase the value of their property since it adds beauty and refinement to your kitchen or bathroom.
They are to be cleaned and maintained very carefully like any other of the natural stone in order to prevent it getting damaged from any scratches and cracks.
Should Black granites be sealed?
The purpose of the sealing granite countertops is to preserve a smooth surface of the countertops. But it is not a compulsion for all types. Some would need to be sealed where some doesn't need to be sealed. It depends on a specific feature if it's needed or not. Normally, Black granites don't need to be sealed.
Although, black granite typically don't require sealing because they're dense, very stain-resistant, and long-lasting. But, testing is required to determine whether sealing is required or not.
Water test is to be done to check if sealing is needed or not. If the water drop placed on the granite countertops is absorbed taking a longer time, then the granite need not to be sealed. It is usually a best option to test if sealer is required before applying black granite countertops to your kitchen. If it is used without any need of it, it could leave difficult-to-clean marks and residue. After testing if it seems like sealing is necessary, then it should be correctly cleaned and then sealed.
Sealing Black Granite Countertops
There is a simple process for sealing black granite countertops. The step- by- step ways for sealing the black granites are:
Clean the surface with any dirt and stains.
Apply a good amount of granite sealer to the surface and distribute it evenly.
Allow the sealer to rest for a few minutes (15-20 minutes).
Finally, Polish the surface of the countertops and wipe out the extra sealer.
Tips To Clean Black Granite Countertops
It's vital to be aware of the do's and don'ts of cleaning and caring for your black granite countertop if you want to keep up its striking and dramatic appearance. There are a variety of cleaning products you may try if you're wondering how to clean black granite without leaving marks or filth. The things that are to be taken care when cleaning black granite countertops are: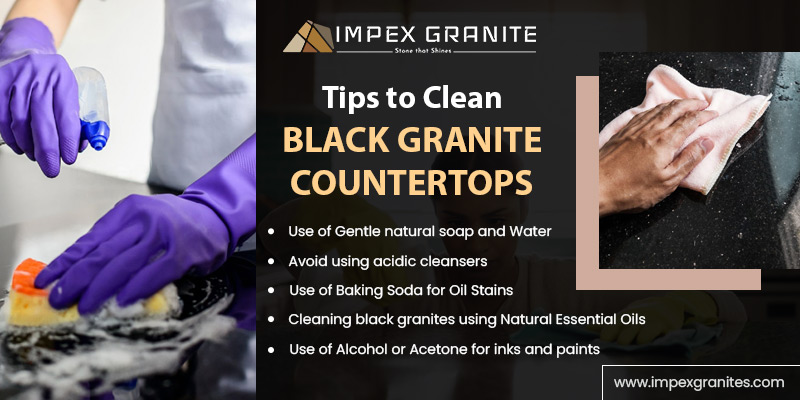 Use of Gentle natural soap and Water:

Using acidic products for cleaning black granites can be harsh on it that might affect its beauty and consistency; so only the gentle natural soap and water should be used for cleaning.

Avoid using acidic cleansers:

You should avoid using acidic cleansers like Windex, and vinegar for cleaning absolute black granite countertops.

Use of Baking Soda for Oil Stains:

For any of the oil stains in granite countertops, baking soda works better than any of the chemicals. The only thing you have to do is to make paste and apply it in the area with oil stains, and keep it resting for a while.

Using Natural Essential Oils:

Natural Essential Oils are considered to be a best option for environmental- friendly germ killing in black granite countertops. These oils work well, are secure, and leave a clean scent in your kitchen.

Use of Alcohol or Acetone for inks and paints:

If any of the inks or paints fall upon your black granite countertops, it will be difficult to remove its stain from a natural soap or essential oils. In such cases, mineral alcohol or acetone can be properly used with warm water to remove the stains.
Cleaning Schedule For Black Granite Countertops
Daily:

To avoid accumulations of dirt and stains on your black granite countertops, immediately clean spills and wipe crumbs off your countertop using hot water and a sponge or towel.

Weekly Cleaning:

Black Granites can even be cleaned once in a week because it doesn't leave stains and dirt that much in countertops. It won't be hard to remove even if its cleaned weekly.

Monthly Cleaning:

It can also be cleaned on a monthly basis if the surface is polished. But to keep the beautiful polish in it, cleaning is required once a month.
Black Granites are the solid black form whose color and texture are both constant. It can be used to produce stunning countertops, flooring, monuments, tombstones, and any other architectural elements. It is simple to maintain and can give a kitchen a sense of modern refinement. Understanding the maintenance of black granite will lead towards longevity of the granite countertops.
To keep its timeless beauty, and maintain its polished appearance, black granite needs to be properly and routinely maintained. From routine cleaning and sealing to excluding using acidic substances is crucial for maintaining the beauty and integrity of this natural stone. You may enjoy the timeless beauty of black granite in your home or commercial area with a little maintenance and care.
Impex Granite is the greatest manufacturer and exporter of absolute black granites in India. We being the top notch supplier, we provide you with the finest quality granites that will satisfy your requirements. Our priority is to supply premium granites at reasonable prices in order to satisfy the customers.