Discover The Different Types of Granite Monuments
Granite is widely popular all around the world for its durability and longevity. They are not just used in homes for flooring, but they are also a great aesthetic material to adorn the houses. Granite is widely used as kitchen slabs due to its resistance to scratches and wear and tear.
Besides being a house owner's favourite, granite is also a major stone for constructing memorials. Unlike, marble they are more affordable and robust. They also come in different shades and grain options to choose from. They can be used in gardens, crematories, or any location of your choice.
Granite Monuments are an ageless piece that reminds your loved ones. You can pick the shape of the monument and as well plan to put a picture or even write a quote that makes you remember about them. You could even inscribe a quote they lived by or write a few lines about the achievement in their life.
There are varied choices in the market and all these options can suddenly feel overwhelming and too much to process when you are missing your family. To make things easier, we have come up with a list to help you choose the best granite memorial according to your needs.
Exploring The Different Types of Granite Monuments
They are typically an upright granite monument that resembles a statue in a smaller scaled version. You can put a photo or even request a half size memorial. Statue materials come in different colours and you can customise the size according to your needs.
If you wish to add more details about the person such as the birth date, death date, place of birth and their sayings then you could use the back of the statue or even the statue bottom.
They are commonly used in gardens, parks or even graveyards. Basically, legacy memorials are installed to commemorate the legacy of an individual over their life time. They are usually chosen for people from the royal family such as for Kings and Queens, famous scientists, celebrities like actors, directors, singers, and poets. Legacy memorials can be as big as a statue in a park or even a small memorial installed on the grass.
They come in different shapes and sizes. The granite stone can be installed as a rich base for the pedestal and the top portion could host a glass embossed layer with the person's name and details. The famous legacy memorial of all time has been of Mahatma Gandhi's Rajghat in Delhi.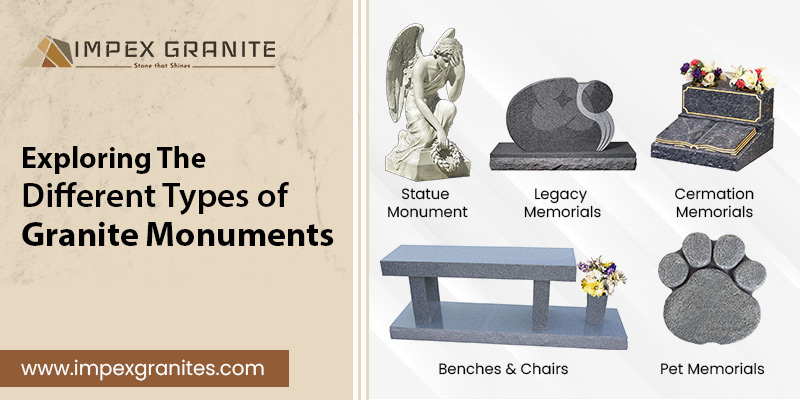 Cremation memorials are used in graveyards and crematories. They are simple memorials with name, birth date and death date of an individual. There are few memorials that could even host a person's photo.
They come in different shapes and sizes. Some may be just a flat stone, some may have a heart shape stone, round one, companion monuments, bevel shaped stone, wing style monuments, etchings on the stone, serpentine monument with a curve and many more.
Granite chairs can be installed at memorial sites or cemeteries, while granite benches can be placed in parks or gardens. While granite chairs are frequently used by families to leave flowers or other tokens at the grave site, benches are a nice place for people to sit and reflect on life. Any size, shape, or style can be used to create these monuments.
As they are frequently used together in cemeteries and memorial parks, benches and monuments go hand in hand. A bench allows family members to pause and reflect on their loss while strolling through the cemetery grounds. Benches are also useful when people visit gravesites during the holidays, when they may have more company than usual due to family gatherings such as Thanksgiving dinner, Christmas, and Easter.
There are also pet memorials which can be installed in your house garden, lawn area or even at the graveyard. These memorials can be as simple as a basic granite stone. These memorials do come in own sizes and can be customised according to the needs. They usually are classified under small legacy monuments or cremation memorials.
If you are looking for a granite supplier, then look no further than Impex Granites. We deliver all kind of top-quality monuments with the best granite finishes. You can get varied choices of granite shades and colours and pick according to your requirements.
Get in touch with us for all your granite needs.