Find the Best Granite Countertop Supplier in the USA
Doing up the house is not an activity that is done very often so we want to get it right. If you have been impressed by black granite countertops and want to get the same for your house, then that is an excellent choice. Granite is a durable stone that looks beautiful in any setting. Other than black, you can opt for various colors, textures, and patterns. But, the key thing is to source granite from a trustworthy and competent countertops supplier in the US.
There are many exporters and suppliers of granite in the US. So, how do you choose from this long list and settle on a supplier who can guarantee a seamless experience for you? Follow these simple tips so that you don't end up with a supplier who may cheat you or supply low-quality stones.
Tips for Choosing the Best Granite Countertops Supplier in the US
Time and effort invested in researching on granite suppliers will save you from the waste of money and disappointment that will come with opting for an unsuitable supplier. Here are a few tips you can use to find a good supplier of granite countertops.
Ask Around About Suppliers of Granite Kitchen Countertops
The best place to start your search for granite suppliers would be the Internet. A Google search will throw up quite a few options and you can explore them through their websites. Another effective channel is word-of-mouth. If you know of friends and family who have granite kitchen countertops, you can reach out to them and add their sources to your list. In this case, you can also do an initial assessment based on their feedback regarding the quality of the stone, adherence to timelines, respect for budget, etc.
Request the Suppliers for a Quote for your Project
From the first step, you will have a list of suppliers that checked out reasonably well in your preliminary research. The next step is to reach out to these companies and get an initial quote from them. At this stage, you should also assess your requirement. Measure the room and the countertop space and have a rough idea of the look you are aiming for; if you have reference pictures that would be even better. Don't give all the information in one go. Instead wait for the supplier to ask questions as that will give you an idea of their level of service, responsiveness, and thoroughness. But, once you have the quotes don't just choose the lowest one. Cost is an important factor but not the only one.
Talk Through your Project with the Granite Countertops Suppliers
Once you have a much shorter list of suppliers under consideration, you can discuss your project with them. Assess if they are listening to your ideas and are open to questions from you. A good supplier will give you many options and not try to force only the option of black granite countertops on you. This will also be a good time to get an estimate of project completion time from them. The trick is to see if they are being clear about timelines and also if they are not overcommitting on deadlines.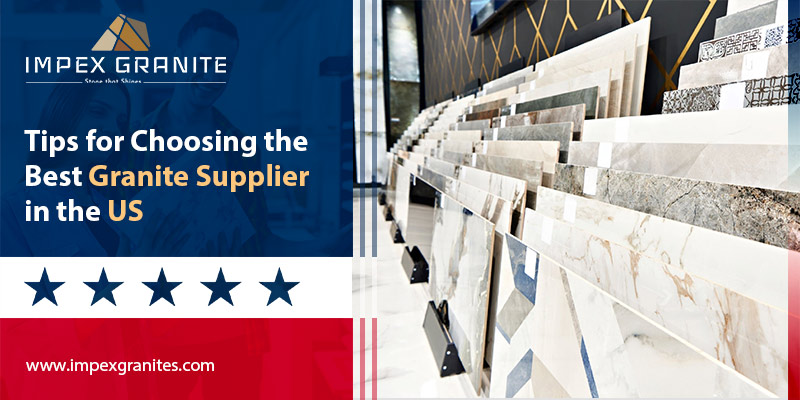 Assess the Expertise of the Shortlisted Granite Countertops Suppliers in the US
The best way to do this would be again through word-of-mouth, reviews on neutral sites, and also from their website. It is trickier to gauge if your supplier can give you the best quality granites. Some of the best granite in the world is quarried in India. So, it will be safe to pick a granite exporter from India to the US. A good bet would be an exporter that has enough experience but has also kept up with advancements in technology.
Whether you want to go for colored or black granite slabs, the important thing is to choose the best granite countertops supplier in the US. Using the above simple tips you can choose the best absolute black granite supplier in the USA and beautify your house with granite.
As mentioned above, you can procure the best stone from Impex Granite, a granite exporter from India to the US. By engaging with our team, you can look forward to a painless and smooth experience of procuring and installing granite kitchen countertops. Our top-notch machinery and the latest technology ensure that you get the best quality granite in a variety of colors, cuts, and finishes. Our top priority is to provide our client with the best quality granite at cost-effective rates and within promised timeframes.