High-Quality Stone Products Are Sourced From Indian Granite Quarries
Ever been to a granite quarry and thought, "How are they making these rocks into beautiful and glossy granites and selling them to us?" Well, don't worry; you have Impex Granite, the leading granite supplier, to tell you all about that. From extracting the rocks to making it an elegant stone that fits your home.
Indian granite quarry manufacturers extract the granite rocks in various blocks of color. In the beginning, everything may seem like a normal stone with no special difference but after all the necessary processes and techniques are done, the stone turns into magic, elegance, and exotic beauty.
So are you someone who is looking for a reason to know why Indian granite quarries are the best? Then look no further, this blog is just the one you have been searching for. We'll tell you all about the process of extraction, making it into beautiful granites then turning into magic that'll fit your home or commercial place.
Hidden Gem of Indian Granite Quarries
India, with its numerous landscapes and geological wonders, is endowed with a vast pool of resources. Granite is an igneous rock created deep under the Earth's crust, and its distinctive composition of quartz, feldspar, and mica lends it the durability and visual appeal that make it a popular option in building and architecture.
Indian quarries are often considered Hidden gems because of the following reasons:
Distinctive colors and patterns
Premium Quality
Rich Geological Heritage
Cultural and Historical Importance
Skilled Workforce
Unique Features
Vibrant colors and textures
Exploring the Indian Granite Quarry
India is home to a diverse spectrum of granite varieties, each with its own distinct colors and patterns. This variety assures that it is well suited for any project.
Granite quarrying and processing in India benefit from the experience of a competent and committed staff. Every process, from extraction to finishing, is methodically carried out to generate high-quality goods.
The Indian granite industry has adopted cutting-edge quarrying and processing equipment and gear. This improves productivity while also ensuring precision in the end result.
Eternal Elegance: Absolute Black Granite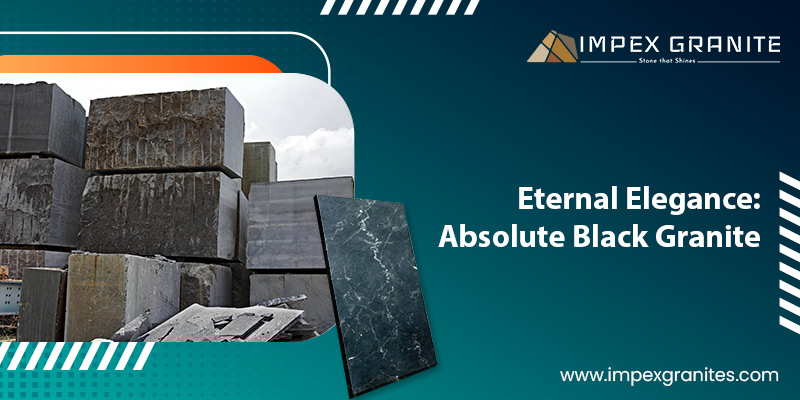 Absolute Black Granite is a deep black-colored granite known specifically for its uniform texture and high level of shine and polish. This variety is very special because it is found only in India and it's the best stone that comes for a long-term purpose. It is often used as kitchen countertops, monuments, flooring, and decorative items as well.
Absolute black granite is popularly known for its endurance, deep black color and a dash of sophistication and luxury.
Color Consistency:

The sleek deep black color, uniform texture and modern design give it a hit of luxury.

Durability:

The high durability nature makes it the best use for high-traffic areas and for outdoor use.

Versatility:

It can be used for both exterior and internal use from traditional style to modern style.

Heat and Stain Resistance:

Heat resistance is a main feature because it withstands any hot pots, pans and heat damage. Stain resistance is the feature that makes it best for kitchen countertops.
Granite Exporters: Filling the Void
The global demand for high-quality granite goods has resulted in the establishment of granite exporters that operate as go-betweens between Indian quarries and overseas markets. These exporters are critical in ensuring that the beautiful products of Indian granite quarries reach buyers all over the world.
These exporters play an important role in guaranteeing the seamless flow of granite resources, linking quarries to foreign consumers, and enabling the trade of this timeless and durable material. Their knowledge of logistics, quality control, and market trends enables them to fulfill the different demands of architects, contractors, and homeowners worldwide, therefore improving the global construction scene.
Why choose Indian Granite Suppliers?
The selection of Indian granite suppliers is determined by particular project needs, but these benefits make them an appealing alternative for a wide variety of clients and projects. These are a few factors you should remember before making an irreversible decision:
Wide range of variety
High-quality assurance
Competitive Pricing
Customization
Sustainability
Cultural Significance
Global Presence
In conclusion, Impex Granites stands out as a reliable source for high-quality stone products meticulously sourced from Indian granite quarries. Their commitment to delivering excellence is evident in the seamless and impeccable that redefines style.
Impex Granite is a leading supplier of high-quality stone products sourced from Indian granite quarries. We offer a wide range of products, including slabs, tiles, countertops, and granite monuments. Our products are used in a variety of commercial and residential applications, and we are committed to providing our customers with the best possible service and support.
If you are looking for high-quality stone products from a reliable supplier, Impex Granite is the company for you. Contact us today to learn more about our products and services, or to request a quote.