How to Choose the Best Granite Slab Supplier for Your Project
Be it home decor or any place where granite potentially fits aesthetically, it has become a splendid choice in multiple projects. Granite is also a natural stone with high durability and other added advantages to it, that has increased its demand in the market.
As demand for a product increases, finding a top supplier in the industry for the same becomes equally important. And we know that finding a superior granite supplier could be quite challenging.
So, in this blog, we will discuss how to choose the best granite slab supplier for your next project and why it is of the utmost importance to choose the right supplier, along with the various uses of granite in your project and more.
Factors to Consider while Choosing a Granite Slab Supplier
There are multiple factors that help customers decide which granite exporter to consider for their next project. Here we list the most significant factors while choosing a slab supplier in granite:
Quality:

It is significant for any project to use granite of the highest quality, as it affects the durability of the granite. Hence, for any customer, it is crucial to choose a supplier who is ready to provide samples for you to get the quality checked yourself.

Expertise:

Supplier needs to source the granite from quarries, check for abnormalities and judge the quality of the granite, and know how to get the granite slabs transported under optimum conditions. Hence, as customers, choose a supplier who prefers top-quality control processes and possesses a superior skill set is important.

Guidance:

When you interact with the Impex Granite supplier of granite slabs, see how helpful they are in clarifying your queries. On the one hand, the more guidance they offer, the more knowledgeable and equipped they are, and it becomes apparent how transparently they answer all of your queries, leaving no room for doubts in your mind and building the right trust.

Credibility:

Even before you consider a granite slab supplier, check their client testimonials, reviews and overall customer satisfaction by their customers to ensure you get great customer service, high-quality granites and professionalism of the highest rank.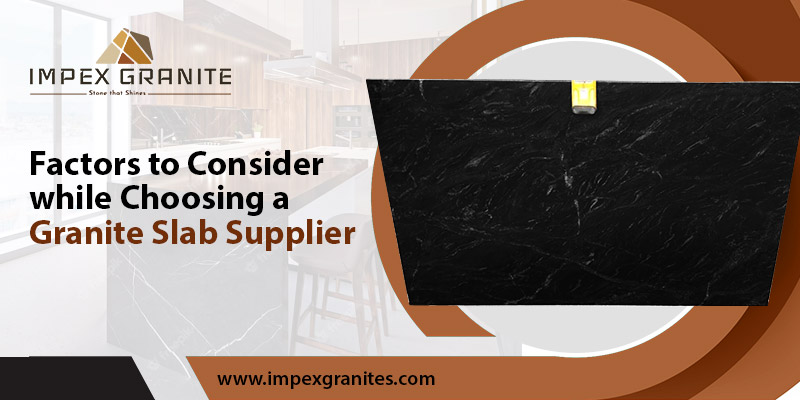 Variety:

From absolute black granite, nova black to copper black, there is no shortage of various types of granite available in the market. When your granite supplier can provide you with all the popular and unique finishes, you know you chose the best quality for your project from diverse options.

Price:

Get quotations from multiple granite suppliers and check for transparent pricing and the overall service they are ready to offer. Once you weigh in, the quality of service, product and price that you are getting, check if it is cost-effective, then you know for sure that you will make an informed decision.

Delivery:

In the same condition as you had chosen it and with no delays in the delivery, is something every good granite supplier should easily be able to fulfil. You will definitely appreciate when the supplier is prompt and causes no delays in delivery.

Machinery:

Although machinery alone does not guarantee the quality of the granite slab, it definitely has a role in deciding the quality of granite slabs. From its processing to cutting after the extraction, they uses machinery for the same. When they are transparent regarding the machinery, you can know the granite's lifecycle and its quality is of high calibration.
Why Finding the Best Granite Supplier is of the Utmost Importance?
We all know how time sensitive projects can get and choosing a supplier for any kind of granite slabs invariantly affects the same.
Choosing a supplier who is not there all the way through can be detrimental to your project, in terms of time, money and your peace of mind!
To ensure you face no obstacles, paying attention to the factors listed above while choosing the top granite suppliers is of the utmost importance.
Why can Impex Granite be your one-stop solution for all your Granite Slab needs?
Serving you best is one of our forever goals and we stand by our mission to become a reliable granite exporter on a global scale to provide you with the highest quality granite slabs at reasonable prices.
Your priority for long-lasting, beautiful granite slabs, be it for kitchen countertops, flooring, bathrooms, to name a few, sets our aim to provide durable granite with a thorough quality control process.
From checking the texture, colour, and any inconsistencies in the granite's strength to proper packaging, secure transport and protecting the granite post its installation, we do it all while remaining environmentally aware.
Need help in choosing the granite slab your project needs? Reach out to us for any queries and our friendly support team will get back to you in almost no time.