How to Spot a Fake Granite Countertop: A Buyer's Guide
It's a trend that started in the late 1980s, granite is considered a luxury and sophisticated natural stone. Granite was often found only in rich households, but now it's found in almost all houses. Granite countertops could add elegance and value to any kitchen or bathroom because of their enduring beauty, resilience to heat, and durability. Residents and designers alike have always preferred granite countertops.
Nowadays, granite countertops have become common, and easy to imitate. With the advancement of technology, these fake granite countertops have become more difficult to identify, and a lot of people are being scammed even without realizing it.
This blog is a buyer's guide with some tips and insights that will help you spot a fake granite countertop before making any final decisions.
Understanding Fake Granite Countertops
Technological advancements have made everything possible, including duplicating granite. Fake granite is called by different names such as quartz, composite granite or engineered stone. A fake granite countertop is a surface that looks just like a real and genuine granite countertop, but it's made of different materials. Artificial granite is made of raw cement as a base, powdered stone, layers of plastic, water, and pigments for the color. These fake granite countertops are low maintenance, don't last much longer, and their prices are comparatively lower.
The artificial granite or quartz manufacturing processes are as follows:
Proportioning
Stirring
Vibration shaping
Curing
Demoulding
Coating wax
Polishing
But don't compromise the quality with cheap fake granite countertops and ruin the authenticity of your home.
Tips and Insights to Spot Fake Granite Countertops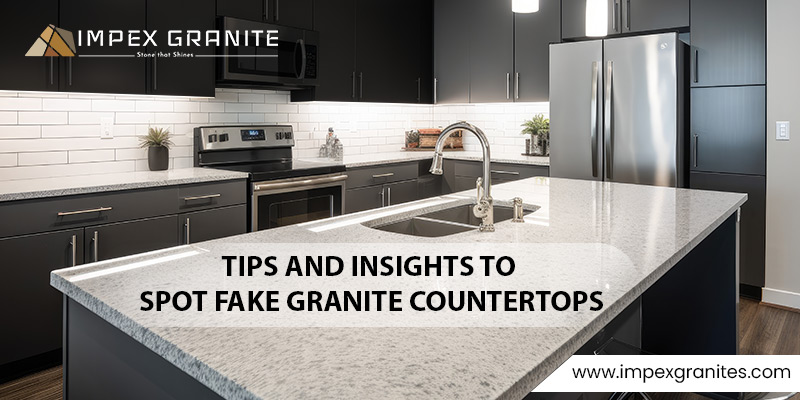 Feel the Surface Texture:
Touch the granite with your hands and feel the granite; if you feel the tiny imperfections, Then you're touching the real granite, but when you're touching them and you don't feel anything else, it's just a smooth surface. Then it's fake,
Consistency of Colors and Patterns:
When you see natural granite, there will be many irregular patterns and veining due to its natural formation. But there won't be anything like that in fake granite because it is machine made and has perfection.
It's a simple test based on the behavior of the water. All you have to do is pour a few drops of water on the surface and wait a few minutes. If the stone is real, then it will absorb the water, but if it's fake, it won't. It will just sit there on the stone.
Lemon is a citric fruit with acid properties. Even if the water test doesn't work, this will work because the heavy acid level causes a change in color on the stone if it's fake. Pour a few drops and wait for the behavioral change on the surface.
Seek an Expert's Guidance:
Sometimes an expert will see what you can't. Impex Granites has a team of experts who can help you spot the difference between fake and genuine granite. Our team will provide you with all the guidance you need.
Investing in authentic granite countertops for your home is never a waste of time and money. But it's important to buy carefully to avoid getting imitation granite countertops. You can confidently recognize natural granite countertops by using the recommendations provided in this buyer's guide, and you can make a good investment in your home.
Impex Granites is the leading
manufacturer and exporter granite
. In order to acquire and shape stones from specific locations, cut them into slabs, color them, and polish them for a beautiful, glittering texture, our granite exporter company uses cutting-edge scientific processes.
If you're looking for genuine granite countertops from a trusted and leading granite supplier, contact Impex Granites today. Our team of experts is fully dedicated to offering you the premium-quality granite products possible, backed up by authenticity and elite customer service. Put an end to the false granite countertops in your house and welcome the elegance of genuine granite.