The Best Kitchen Cabinet Colors to Pair With Black Granite Countertops
The heart of every home, the kitchen, is a canvas waiting to be painted with your style and flair. Just like other interior designs in the home, kitchen's interior has its own significance and its cabinetry is meant to reflect your style and comfort. Granite countertops have long reigned supreme in the world of kitchen design, and for good reason.
Their enduring popularity is because of their winning combination of:
Unrivaled durability
Timeless Beauty
Heat resistance
Easy maintenance and
Versatility
Choosing the right Cabinet colors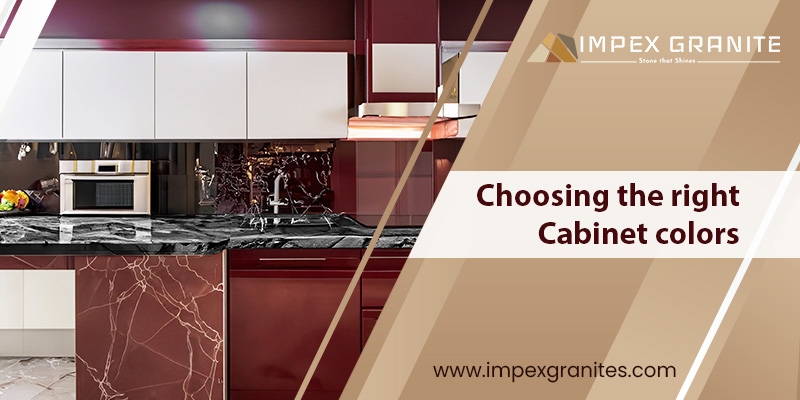 Black granite countertops, like the popular Absolute Black Granite, give your kitchen a dramatic and elegant aesthetic. As the old saying goes, 'black goes with everything', which holds true even for kitchen countertops and cabinets. However, choosing the right cabinet colors is critical to enhancing their beauty even more.
Here are some pointers to help you discover the magic of combining cabinet colors with black granite countertops, all driven by Impex Granite, the reliable granite supplier:
The combination of black and white in the design is an eternal classic. The absolute black granite countertops and pristine white cabinets reflect a lasting relationship. This contrasting pair of black granite countertops and white cabinets restores shine to your kitchen, letting granite take center stage. This combination also creates the illusion of space that can suit small and large kitchens.
Introducing navy blue cabinets, the rich, glossy blue against the Absolute Black Granite countertops provide a kitchen that is bold, gorgeous, and full of personality. A deep, graceful navy blue hue provides an elegant contrast to the black granite countertops in the kitchen, creating a kitchen that exudes bold majesty.
Gray gives a modern feel in various shades and beautifully complements the richness of black granite. Light gray cabinets exude tranquility and peace; dark gray cabinets exude passion and elegance. This combination creates the ideal mix of modernity and charm.
Consider pastel cabinet colors like gentle blues, minty greens, or blush pinks if you want a softer, whimsical vibe. The contrast between the silent colors and black granite is beautiful, creating a bright, spacious, and unique kitchen.
Consider wooden cabinets in mahogany, cherry, or oak wood if you love nature's warm embrace.These cabinets create a warm atmosphere with natural textures and earth tones. A combination of wood and black granite countertops creates an attractive rustic look.
Imprex Granite- Your Reliable Granite supplier
After all, the possibilities for combining cabinet colors with black granite countertops are limited only by your imagination. The key to designing your dream kitchen is, finding the perfect balance of contrast and harmony.
If you want a beautiful interior design for your kitchen with absolute Black Granite countertops and fascinating cabinets, get into the world of an excellent granite supplier, Impex Granite.
Whether you opt for timeless white, modern gray, rustic wood, striking navy, or gentle pastels, the true magic lies in finding that exquisite balance that transforms your kitchen into a masterpiece- With Impex Granite, as granite wholesaler, you can rest assured of the impeccable quality and beauty of your countertops, setting the stage for a kitchen that transcends the ordinary and becomes an ode to your unique taste.