Tips to Choose the Right Granite Countertop Supplier in Germany
When you are on the lookout for great options for your upcoming construction project in Germany or anywhere, and considering granite countertops, you have made a sound decision already.
Even though many alternatives to granite countertops exist, they remain to be popular, for reasons including its durability, aesthetics, low-maintenance and value for money, among other reasons.
The next step of finding the granite supplier becomes important; be it a Impex Granite, best granite supplier in Germany or anywhere else.
Essentially, it is important to decide on a granite supplier with care and not in haste. Hence, we prepared this comprehensive guide to help your decision-making process, less challenging.
12 Easy Factors to Decide the right Granite Countertop Supplier
Absolute, Nova, & Copper black granites, any granite finishes you choose for any architectural endeavours in Germany.
If you need a wholesale granite supplier for your individual project, choosing one involves the below easy steps:
Experience:

While choosing granite supplier, It's important to check from how many years are there in granite industry

The longer in business they have been, a more understanding of the market they possess. Ultimately, it helps you receive more guidance from them in your projects.

Quality:

A granite supplier should offer high-quality granites. The better the quality of the granite, the higher its durability.

Hence, looking for a supplier who is ready to provide samples to know the quality of the granite slabs.

Expertise:

From sourcing the granite in quarries, handling the machinery to cut the granite countertop slabs require immense knowledge.

Only true expertise can guarantee the quality that aligns with the market standards. Referring to customer reviews on their websites can help find out if the expertise they promise gets reflected in their deliveries.

Options:

Just with an absolute black granite and its many finishes, one can get a variety of granite countertops that are visibly pleasant and elegant.

A good supplier should be able to provide you with many granite countertop options for your project.

Price:

While quality is non-negotiable, providing competitive pricing for the granite is also equally important.

Providing granite countertops at a reasonable price, with larger discounts on bulk orders and other such considerations in pricing, is something the granite supplier should provide.

Customer Service:

From answering any of your queries to treating your project as a priority, expect a high level of commitment and customer service from the granite supplier.

Not just answering your questions, but also suggesting granite countertops that will take one's breath away, while staying within budget is something your granite supplier should provide.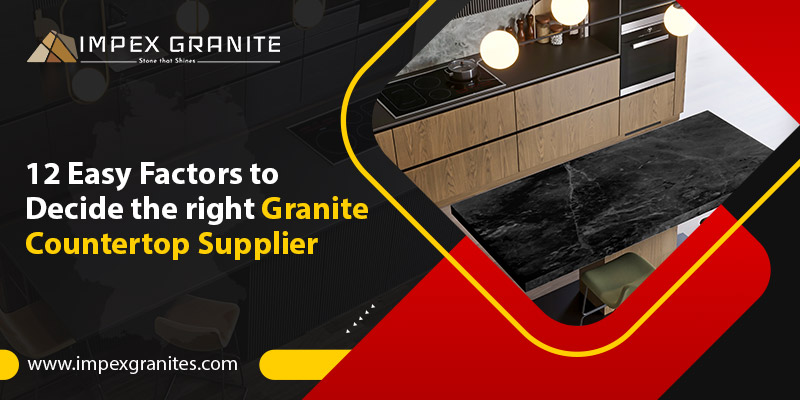 Transportation:

Not all suppliers provide transportation of the granite countertops as part of their customer service. Proper delivery of granite slabs is crucial to prevent cracks and other damages in them.

Hence, clarifying whether they include transportation before signing off on the deal is a crucial step.

Timely Delivery:

Well, we all know "Time is money and money is Time"! When a granite countertop supplier delays their delivery, you incur a loss in money because of the delay in the project's progress.

Reading customer reviews and ensuring the supplier is true to their words is significantly important.

Customization:

Fabrication requires a high level of skill and not every supplier can do it the way you want.

Hence, making sure they provide customization and custom sizing of slabs at the beginning of making the deal is again a wise step to follow.

Online Catalogue:

Any good granite manufacturer, or more appropriately, someone who sources granites, cuts and distributes it, needs to have a ready online catalogue.

Even before you can talk business and to ease the selection process for all their customers, an online catalogue is a must and your granite supplier should definitely have one.

Quotes:

Not just online catalogues, the granite countertop supplier should also agree and be ready to share fair quotations for your potential orders in no time.

You can gauge how much importance the supplier places in responding quickly to their customers at this point as well.

Consultation:

Online Consultation is an important part of customer experience. You can assess how your journey with the granite supplier could turn out based on how they provide the consultation services.

You can gauge how much importance the supplier places in responding quickly to their customers at this point as well.
Are you finding it difficult to find Granite Countertop Suppliers in Germany?
For many reasons, you may not find the granite supplier who is just right for you locally and you might have to expand your search outside of Germany!
The reason for not finding the granite supplier locally could be many! Unavailability of multiple options of granites for your project, difficulty in finding the right price or even a language barrier, the reasons could be plenty!
Why is opting for a granite exporter from India a great business opportunity?
Extensive Production:

With an enormous source of raw material, the latest technology and fabrication process established, the Indian granite manufacturers have extensive production.

You get a high guarantee on the durability of the granite countertops, with lower environmental impact as well using the sustainable methods opted by them.

International Reach:

Impex Granite, the granite supplier manufacturer in India already have a well-functioning supply chain.

The established supply chain makes it convenient to deliver granite countertops with the utmost care to Germany and ensures your projects run promptly.
We have exported granite slabs to the USA and to the Burj Khalifa's parking space in Dubai, and for many more projects. With our expert knowledge and experience, we also can help you with your granite needs in Germany for all your granite requirements.