Tips to Select the Right Granite for your Home in Dubai
If you are doing up your new house or renovating your old one, you must be neck deep in choices to be made. You are here because either you have finalized or considering granite for your kitchen countertops. That is an excellent choice as granite is durable and sophisticated, and adds a wonderful vibe to the home. Any good granite supplier in Dubai will have a vast range to choose from whether it be for color, texture, pattern, or cut.
How to Choose the Ideal Granite Countertops for my Home?
Don't get overwhelmed by the wide array of granite available in Dubai. Here, we make the task easier for you by listing useful pointers that will guide you to the correct choice for your home. Empty countertops in your kitchen and bathrooms are brimming with possibilities. Follow these tips and you will be rewarded with beautiful granite countertops that will not only add elegance to your home but will also last for years.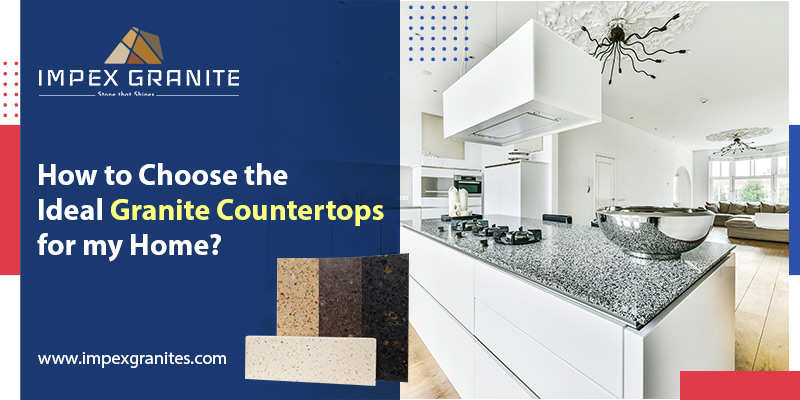 Color of the Kitchen Countertops
While absolute black granite slabs look elegant and classy, given the wide choice of colors available, you can choose colors that go with the rest of your kitchen and bathrooms. You can choose granite that is the same color as the cabinets but with darker veins. For example, if the cabinets are green you can go for light green granite with brown veins. Or you can match the color of the cabinets with the veins. So, in this case with green cabinets you can go for white granite with green veins.
Light or Black Granite Slabs?
The thumb rule here is that for a small kitchen light colored granite slabs work best. They help make the kitchen look spacious and well-lit. If you have a larger space and want to add some drama to it, dark-colored or even black granite countertops will do the trick. In case you are confused you can stick to a neutral shade like grey or brown – you can't go wrong with them.
Pattern of Granite Countertops
You can add more subtlety with the rich variety of patterns available in granite. A solid slab without too many veins or variations in the pattern will do wonders for a small kitchen or bathroom. You can also contrast a colorful and busy décor in your kitchen with solid granite countertops. If the space is monochromatic, then a marble-patterned granite with lots of veins will beautifully complement the minimalistic décor.
To Glitter or Not to Glitter?
Glittery granite has been a popular choice for households in Dubai but before getting it check if it is the right option for you. While it looks great and adds shimmer to your kitchen, it may not be ideal for your house. Glittery can be brittle and is also not as stain and chip resistant as normal granite is. So, if you are a young family with kids and pets running around you may want to stick to granite without glitter.
Granite that comes in tiles is more budget-friendly and long-lasting. The drawback is that with tiles you will get visible grout lines and not the continuous slab look. With granite slab, you get a classy and sophisticated look, though at a higher cost for purchase and labor.
Select a Good Granite Supplier in Dubai
Doing up the house is not an activity that gets revisited often, so it is important to get it right. Granite is a fantastic choice for countertops but you should make sure you source from a reputed granite supplier in Dubai. With a good supplier, you will get a wide range of choices of top-quality granite. In addition, the supplier's team will also be able to guide you to choose the kind that will best suit your house.
Installing good-quality granite on bathroom and kitchen countertops is an investment as it is not easy to change them. The above tips will help you choose wisely keeping in mind their usage and their alignment with the overall décor of the house. While black granite countertops are an all-time favorite, a good granite supplier in Dubai will have many other options for colors and finishes. So, you can get as creative as you want!
Some of the best granite in the world is quarried in India. It, thus, makes excellent sense to opt for a granite exporter from India to Dubai. Choose from our catalog which lists not only different kinds of absolute black granite slabs but also hundreds of vibrant colors, textures, and patterns. The impeccable craftsmanship of our team ensures you get quality that will add character to your home in Dubai.