Ultimate Guide on Importing Granite from India To USA
Granite has various applications like construction and interior design because of its classic and appealing nature. Indian Black Granite, noted for its remarkable beauty and durability, is one of the most sought-after kinds.
Let's discuss further the world of granite imports from the trusted source for the highest quality granite, India to the USA.
Why Choose Indian Black Granite?
With its deep black shade and characteristic streaks, Indian Black Granite is a popular choice among architects and designers.
India offers high-quality granite and is one of the leading producers of granite in the world. Indian suppliers have mastered the process of mining, processing, and exporting granite products that meet international standards.
Here are some key features that make Indian Black Granite a popular choice:
Uniqueness

Each slab of Indian Black Granite is a unique work of art. No two pieces are alike, giving your project a sense of exclusivity.

Versatility

This granite type is extremely adaptable. Indian Black Granite matches a variety of design types, whether used for kitchen countertops, bathroom vanities, flooring, or even as a decorative feature.

Easy to maintain

It is simple to care for Indian Black Granite. It is simple to maintain and does not require regular sealing, making it an ideal alternative for busy households or business venues.

Durability

Indian Black Granite is well-known for its toughness and resistance to abrasion. With its outstanding durability, ensures that your investment remains appealing and useful for many years.
A Step-by-Step Guide to Importing Granite from India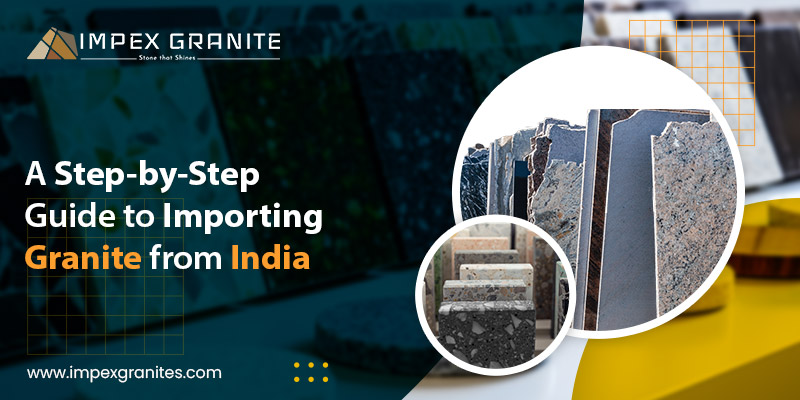 If you want to bring the attraction of Indian Black Granite to your projects in the United States, here's a step-by-step guide to importing this magnificent stone:
Identify Your Granite Supplier
The first and most important step in importing Indian Black Granite is to choose a trustworthy provider. Make sure the supplier is good enough with their vast network of facilities and quarries offers a steady supply of high-quality granite.
Outline Your Requirements
Work closely with your chosen granite provider to discuss the needs of your project. Indian Black Granite comes in a variety of designs, thicknesses, and sizes, so be sure to specify your requirements.
Documentation and compliance
Importing granite into the United States necessitates adherence to several customs and import restrictions. Your chosen supplier should be familiar with these specifications. To accelerate the import procedure, Impex Granite ensures that all relevant documentation, including quality certifications, is in place.
Look for comprehensive shipping and logistics solutions to ensure that your order arrives in the United States securely and on schedule. Ensure that they develope partnerships with seasoned shipping companies and can handle the entire procedure, from loading the stone to passing customs.
Before placing your order, inspect the granite to ensure it fits your quality criteria. They perform stringent quality controls at every stage, from quarrying to packing.
Impex Granite Your Wonderful companion
Impex Granite is your reliable partner for granite imports. Here's why you should think about them:
Superior Quality

Impex Granite sources granite from India's finest quarries, ensuring high quality

Broad Selection

Their extensive selection of granite variations, including the captivating absolute Black Granite, meets a wide range of project requirements.

Expertise

Impex Granite has years of experience and understands the complexities of the import procedure, assuring a hassle-free experience for you.

Customer-Centric Approach

Impex Granite is dedicated to providing outstanding customer service and following through on their promises.
When you work with a trustworthy granite supplier like Impex Granite, importing Indian Black Granite from India to the United States may be an appealing process. Their skills, quality assurance procedures, and commitment to customer satisfaction make them an excellent choice for granite imports.
You can create glory and elegance by enhancing your designs with the timeless beauty of Indian black granite. If you want to add the exquisite beauty of granite to your interior design. In that case, Impex Granite is here to guide you through the process, guaranteeing you have the finest Indian Black Granite delivered to your door.
Impex Granite's timeless attraction of Indian Black Granite can be used to transform your interiors. Start your journey with Impex Granite now and experience the glory of this wonderful stone in your designs.