Why are Indian Granites the top choice worldwide?
Granite is a type of igneous rock with light-colored granules that are large enough to be seen with the naked eye. It is created when magma beneath the surface of the Earth slowly crystallizes. Quartz and feldspar make up most of the granite's chemical composition, with only trace amounts of mica, amphiboles, and other minerals. Granite typically has a red, pink, gray, or white appearance due to its mineral makeup, with black mineral grains visible throughout the rock.
Granite is a highly popular type of stone due to its prevalence as the most abundant igneous rock found on the Earth's surface. It is widely used for various daily applications, such as stairs, floor tiles, curbing, paving stones, countertops, building veneers, and gravestones. It is likely that you use granite in some form or another on a daily basis.
One of the highest-quality granites you can find in the world is Indian granite. They come in different varieties and colors. They are reasonably priced, robust, gorgeous, and enduring. India is one of the world's biggest marble and granite suppliers. About 80 to 85 percent of the granite produced in India is exported worldwide.
For centuries, Indian Granites have been ruling the world in terms of quality, design, and durability. The Indian black granites, along with the pink, red and white are becoming famous in the global market and are one of the most popular choices in interior and exterior design.
Where can you use granite?
Granite has been used by humans for thousands of years. It serves as a building material, dimension stone, architectural stone, and decorative stone, and has been utilized in the production of a wide range of goods. Buildings, bridges, paving, monuments, and numerous constructions use granite. Tile flooring, stair tracks, and other design components are made from polished granite slabs and tiles. Granite is a high-end material that gives your space an air of class and excellence.
Materials like black granite slabs are often used for elegant countertops, while lighter colors are used for accent walls, tiling, and other statement pieces.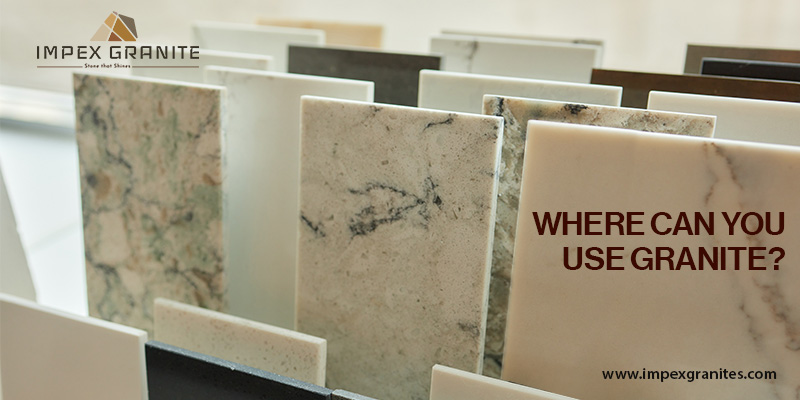 Why is India one of the biggest granite manufacturers and suppliers?
India is currently a paradise for granite stone suppliers. Globally, granite is primarily imported from Brazil, China, Canada, and India. Kishangarh in Rajasthan, India, is a massive granite manufacturing hub.
Here are some reasons that make Indian Granite stand out:-
Indian granite has a wide variety of uses, and the improvements and adaptability of cutting equipment expand those uses. Garden furniture, fountains, seats, and other decorative items use Indian granite. Granite small blocks are creatively used as kerbstone, cobblestone, and road sidings. Buildings and monuments, as well as interior and exterior facing, are made from processed granite. Crude granites are employed for construction applications after dressing.
Numerous granite quarries in South India produce stones of excellent quality. Granite may be imported from India for an affordable price than it can from any other nation. India has several granite quarries, inexpensive labor and resources, and a low dollar-to-rupee exchange rate. In addition, many Indian granite exporters can offer premium granite blocks, slabs, tiles, and other stone products at incredibly low prices due to intense industry competition. This is a key factor in the widespread use of Indian granite in the structure business.
Indian Granite is very durable, and it's utilized in several meteorological equipments due to its exceptional wear resistance and lack of denting. Indian granite, which is more robust than marble, consists of colored granules that are swirling and strewn across its surface. To give the desired shape, it can be polished, flamed, honed, bush-hammered, and split-faced. Additionally, crushed granite can be used as a base material at construction sites, railroad ballast, and as a joint in the construction of roads.
Granite is renowned for its beautiful and alluring colors, which display a variety of shades since minerals are present in it. The attractive color of granite draws people in. It gives both the interior and exterior design a stunning appearance.
Indian granite is more in demand due to its brilliant colors. The eye-catching variants of Indian granite come in gold, brown, beige, white, jet black, and vibrant colors.
What are the types of Indian Granites available?
According to granite countertop suppliers, here are some of the most famous granites from India:-
Copper Black Granite
Imperial Red Granite
Tan Brown Granite
Absolute Black Granite
Nova Black Granite
At Impex Granites, we pride ourselves on being one of the top marble and granite suppliers in the country and provide high-quality products at reasonable costs with amazing service. We have years of experience as a leading black granite exporter and have made our mark with a customer-centric attitude. Add an elegant touch to your construction now!