Why Granite Flooring is Best for Commercial and Residential Spaces
One of the aspects of the interior design of a space that requires careful research and consideration is the flooring. It is a feature that gets noticed immediately and adds a lot of character to the space whether it is residential or commercial. But more importantly, it is a feature that needs to be sturdy and long-lasting. It is a time- and labor-consuming exercise to change the flooring and hence, it does not get changed as often as other aspects like movable furniture and soft furnishing do. Vitrified tiles, marble, hardwood, and granite are a few of the most popular choices for flooring. Of these, granite checks the most boxes in terms of cost, durability, and appearance.
Granite is a naturally occurring, coarse-grained stone. It is an igneous rock comprising different compressed grains like quartz, mica, silica, etc. It has been used for centuries as a construction material. In ancient Egypt, it was used to build pyramids and columns of edifices. Even in south India, many temples were built with black granite flooring which has beautifully withstood the test of time.
Granite has over the years become a highly popular choice for flooring, bathroom counters, and even walls. In fact, black granite countertops have been an evergreen favorite in Indian kitchens. Now, of course, granite stores have a wide variety of colors and styles to offer for flooring and other surfaces. But, first, let us see what makes granite a trendy pick for flooring for residential and commercial spaces.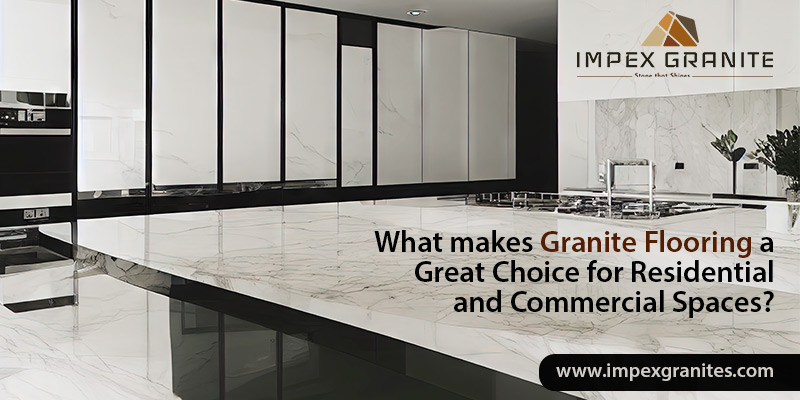 What makes Granite Flooring a Great Choice for Residential and Commercial Spaces?
Whether you are doing up the interiors of your house or your place of work, you will want to choose flooring that makes a style statement and that does not succumb soon to everyday use. Let us explore why granite satisfies these requirements.
Granite lifts the aesthetic appearance of the space and gives it a look of elegance and high-end class. Whether you want a modern look or a traditional one, a granite supplier will have a variety of options from which you can choose. Granite flooring adds a lot of sophistication to a commercial space whether it be an office or a restaurant or a shop, thus leaving a favorable impression on the clients and customers. Lighter shades of granite also help in making the room look bigger and brighter as they reflect light.
Granite is an all-rounder as it not only looks good but scores high in strength and durability. Granite floors can withstand even the high foot traffic in commercial set-ups. Granite is also far more resistant to cracks and scratches than other materials. It can also withstand high temperatures making it a more fire-resistant option than many other materials.
This factor makes granite a very attractive option, especially for residential spaces. A granite surface can be sealed which makes it non-porous. This prevents water and other liquids from seeping through and increases the life of the surface and makes it resistant to stains. The only care the granite surface will require will be a wipe down with a soft cloth or with water and mild soap. This feature also makes granite an apt choice for kitchen and restaurant countertops. Granite floors and tops are also easy to repair in the rare case of chipping or discoloration.
A granite exporter will have options for granite at various price points. Granite can be a more expensive option than certain other materials like vitrified tiles or wooden flooring, but the initial cost is offset by the low maintenance cost and the long-lasting property of granite. Hence, granite proves to be a cost-effective option in the long run.
This is where modern technology has helped evolve granite as a top choice for flooring and other surfaces. Granite stores offer a wide variety in terms of texture, color, and grain. You can opt for a polished finish or a rough-hewn one depending on whether you want a glossy look or a matte one. You can also have your pick from different shades of white, yellow, pink, grey, etc. if you want to explore beyond the traditional absolute black granite slabs
Granite is an extremely versatile material and due to its properties, which we have discussed above, it can be used not only for flooring but also for countertops and walls. Black granite countertops, and now colored ones too, feature in many Indian kitchens as they can withstand heat, liquids, oil, etc. very well. Granite surfaces in bathrooms not only lend them elegance but are also easy to maintain. This material can also withstand exposure to the outdoor elements so you can extend the same look to your patio or balcony too. Modern technology allows granite to be cut into thin tiles so they can be used as backsplash tiles in your kitchen and bathrooms. Granite walls in commercial spaces add a touch of drama and class to the overall look. So, you can look beyond just flooring with granite.
Leaving no Stone Unturned!
When it comes to the creation of your personal or professional space, you should definitely not leave any stone unturned, and this is why granite should be your top pick for the floor and other surfaces. However, do not compromise on the quality and go with a granite supplier who will guarantee quality in product and service.
Impex Granite has over 16 years of experience in supplying its valued customers with granite that is long-lasting and artistically crafted. Its committed team of engineers and highly specialized workers work together to understand the customers' requirements and deliver granite crafted using top-notch machinery and innovative methods. Call for our Catalogue Now and take your pick!