Easy Techniques for Removing Granite Backsplash
Granite is a common kitchen countertop material and is used extensively around the world. It is perfect for kitchen decor because it is long-lasting, non-porous, and simple to clean. Granite is the loved material for interior designers because it comes in such a wide variety of hues, patterns, and textures. If you are remodelling your home or trying to replace the granite backsplash for your kitchen, then this blog is for you.
What Is a Granite Backsplash?
A granite backsplash is a décor panel that is installed behind your kitchen worktop on the wall. The main purpose of the backsplash is to prevent oil and dirt to sticking to the wall surface. Besides behind highly durable, granite is also a widely chosen just to make a functional surface more attractive by adding colour or texture. Granite Backsplash adds elegance to your kitchen and it looks great for years to come.
How to Choose the Right Backsplash?
The first step in selecting the granite backsplash design is determining the size of the space where it will be installed. You should be aware that this choice will have an impact on other variables such as colour choices and material type. Granite exporters have different shades such as black, brown, pink and red. You can choose the backsplash in the same or contrasting color depending on the type of cabinet you are going to install in your kitchen.
It can be installed over the existing tiles or over plywood. If you want to create an elegant look in your kitchen, you should consider installing granite countertops with a glass tile backsplash. The glass tiles will give your kitchen a modern look while adding elegance and style to it.
Consider the price factors as well. If you want to cover an entire wall with a granite backsplash, for example, you must select a huge piece of stone, which may be more expensive than placing numerous smaller pieces on various walls or surfaces of your kitchen countertop. If this is not possible, alternative options include putting tiles instead of full-size slabs or utilising smaller pieces for accent pieces like as corners or beneath the cabinets.
How to Remove Granite Backsplash?
If your kitchen backsplash has become stained or damaged, you can replace it with new granite. Following is the process involved:
Cover your surfaces
Shut down the electricity supply
Scrape the edges
Remove the adhesive
Prepare for New Granite Backsplash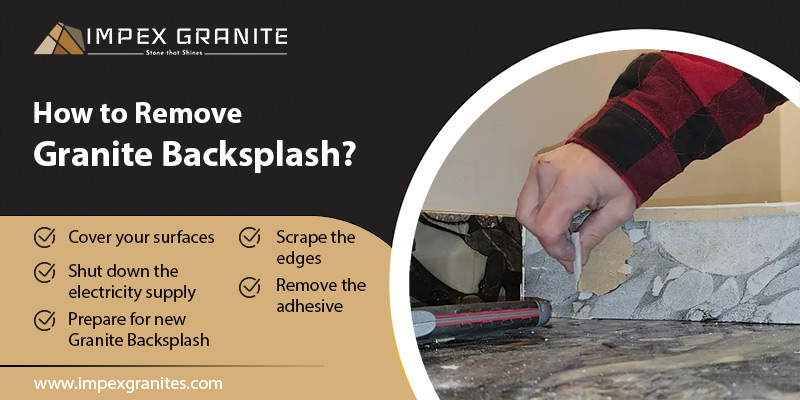 Cover your Surfaces

When removing a granite backsplash, it is important to protect nearby surfaces from any debris that might fall off during the removal process. Cover all nearby furniture with cardboard or newspaper before you begin working on your walls.

Shut Down the Electricity Supply

Before you start working on your walls, shut down any power sources that may be running through them. This includes any light switches, outlets, or ceiling fans in your kitchen area. Doing this will help prevent accidents from occurring while working with tools such as drills or screwdrivers that can send electrical current through metal parts like wires or screws into an electrical socket.

Scrape the Edges

Start by chipping away at the edges with a hammer and chisel. Chip away at one corner of the backsplash until you see cracks forming along the edge of your granite countertop or glass tile backsplash. Once you see these cracks, continue chipping away at that corner until you can break off small chunks of stone from around its edges.

Wear protective gloves when working with the chisel so you do not cut yourself on broken tile pieces. Use an angle grinder with a diamond blade to cut through tiles that are still attached but have become loose over time.

Remove the Adhesive

Remove any remaining adhesive residue from the wall by wiping down the surface with mineral spirits or lacquer thinner. These products will not damage the granite but will remove any oily residue left behind by adhesives used when installing tile prior to its installation on your wall.

Prepare for New Granite Backsplash

Select a new slab of granite that's at least 1/2-inch larger than your current one on all sides.
A wet saw for cutting the new slab to size (or if you are lucky enough to have a large enough workbench)
Prime the backsplash area with an etching primer (optional)
Prepare your new granite slab for installation by cleaning it thoroughly using warm soapy water and allowing it to dry completely before proceeding further with the installation process.
Silicone caulk for sealing between the wall and new backsplash (optional)
Tile adhesive for attaching tiles to the backsplash (optional)
Prepare for a new slab by applying a bonding agent or mastic, then levelling it out with fine sandpaper
Polish your walls with a high-gloss enamel paint
The main advantage of using granite as a backsplash over other materials is that it lasts much longer than many other types of stones. It is very resistant to heat and it will not warp or crack even after years of use.
We at Impex Granites, are the no 1 premium black granite suppliers and we have tiles that come in many different colors and patterns, so you can find one that fits perfectly with your kitchen design scheme. Choose from a wide range of designs that gives an elegant feel to any room and can be customized to fit any budget.