Tips for Choosing the Best Quality Granite Slabs
In this modern era, constructing a house is a challenging task. You need to pay attention to various things, especially the flooring materials. When it comes to flooring, there are many types of materials available. Among them, granite slabs are currently the most trending material due to its strength and aesthetic appearance. It can be challenging to select the ideal granite slabs for your house. For many, the choice is difficult due to the vast differences in colour, design, and veining. Most people choose black granite countertops from other granite slabs because of their perfect look. Also, get help from professionals to assist you in choosing your granite slabs at a minimum cost. Following are the tips for selecting the perfect granite slab for your home:
Tips for selecting the perfect granite slab for your home:
The slab selection process can be made considerably simpler by limiting your alternatives before visiting the showroom. Among all the granite slabs, choose the natural stone colors and grain patterns that appeal to you the most by reflecting on your style preferences. You can choose the granite slabs that appeal to your taste with the help of the granite suppliers.
A granite showroom is a perfect place to browse for granite since it allows you to choose variety of granite types all under one roof. You can also choose the best black granite slabs that complement the installation space.
The granite suppliers can collect various samples that can then be placed in the room where the installation is needed. On this basis, it is simple to examine several samples and select contrasting or complementary hues that complement the location where it will be installed.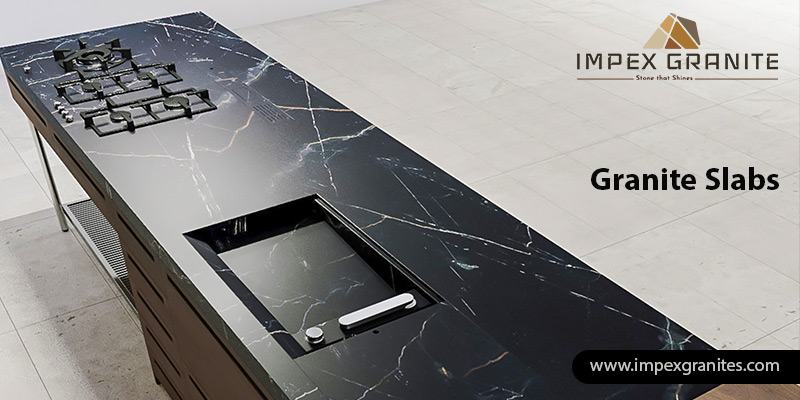 Select between the colors
Choose light colors for your kitchen countertops if it is small or gets little natural light because they will make them appear brighter and more extensive. Instead, choose granite in shades of grey or black if you want your kitchen to have a chic contemporary appearance. Beige or brown are safe choices if you have trouble deciding because they go well with practically all kitchen designs.
Making a budget is usually the least enjoyable and most stressful part of any remodelling or construction project. Creating a budget for your kitchen countertops may be time-consuming and tiresome, but it will prevent a great deal of worry in the future. Because quality stone items like granite and quartz are so expensive, kitchen worktops are sometimes the most costly purchase builders make. It is heartbreaking to be in love with a beautiful cream quartz only to discover you can't afford it.
It is essential to have the test before making the final decision. Drop a few drops of water on the sample's surface and let it be there for 15 minutes. After that, wipe the water down with a paper towel. If you discover any remnants, the test sample is too porous to be regarded as adequate in its ability to absorb moisture. During the acid test, leave a lemon wedge on the sample's edge during the night. The kitchen countertops are suited for long-term usage if you didn't notice dullness in the lustre of the selection after removing the wedge or the formation of patches. It is better to choose the black granite slabs as that will give a unique look and last longer. 
Avoid using glittery tiles in need of solid countertop
It is advised to stay away from sparkly stones if you are a busy mother of active children who is growing up. You would want a countertop that can withstand spills and stains. Mica flakes are mixed with golden crystals and copper in colour to create glittering stones. Geologists refer to these stones as schist stones. Schist stones are pricey but also brittle, so they are more likely to shatter and chip. Although glittery slabs may appear quite alluring, they are better suited for bar tops or offices with fewer chances of suffering. Granite fabricators advise mothers to choose the absolute black granite slabs for easy maintenance and durability at home.
Whether to choose the slab or tiles
Your professional tile dealer will ask you to choose between solid slab and granite tile. A more affordable option is absolute black granite slabs, which are easy to maintain and last long for all situations. Although black granite countertops will be durable, there will be noticeable grout lines. Granite solid slabs will have fewer or no grout lines. These cost more to produce in terms of labour and materials.
Know the grades of the granite
A, B, C, D, E, and F are the typical labels for granite boxes. You might notice that granite slabs with a grade of A cost less, whereas slabs with an F cost more. Given that grade F granite is the most expensive, and it makes sense to presume that grade A granite is of lower quality. It is crucial to realise that the grades are determined by price and have nothing to do with how well the granite performs in practical applications. The grading is done for the benefit of the shop owners and sellers. Therefore, feel free to use an absolute black granite slab if you like the colour and design.
Choose the right fabricator
Choosing the proper granite fabricator is just as crucial as selecting the best black granite countertops for your kitchen. When cutting and creating your chosen granite into your kitchen countertops, a skilled fabricator will do a fantastic job and do your choice and investment justice. Likewise, a novice fabricator's substandard work can detract from the beauty of the granite you have chosen. Leading tile retailers collaborate with top fabricator businesses skilled in using cutting-edge technology and deft quality when putting granite slabs in your kitchen.
Impex granite store is the one stop solution for all your granite needs. We are the top granite suppliers. We will ensure you receive the proper guidance in choosing and installing black granite countertops for your home.