The Benefits of Using Black Granite For Interior Design
Behold the Beauty of your Interiors using Black Granite
Whether you want a modern minimalist home, a classic traditional home, or contemporary design interiors, you can be sure about one thing. You can be sure to get all that using black granite in your interiors!
Black granites have been found to add coziness, luxury, elegance, contrast, and much more when used for your interiors.
But before you commit to spending on granite tiles or slabs, you want to know the long-term benefits of using black granite for interior design. If you are nodding a yes to that, then you are in for a treat.
Why Consider Black Granite for Your Interior Design Project?
The look:

There are multiple benefits of choosing black granite for your interior design. When space planning, decide how you want to use granite in your interiors.

Be it granite floors, bathroom or kitchen countertops, backsplashes, accent walls, or even furniture pieces. There is no shortage of ways to use granite in your interiors. Wherever you use them, you will add sophistication, elegance, and an upscale look with black granites.

The Appeal:

The color black is a classic! Using absolute black granite in your interiors adds a timeless appeal that lasts beyond passing trends. This added benefit of granites being forever trendy makes them popular and a wise choice for rich interiors.

The Patterns:

The other advantages of using black granite for interior design is getting unique interior designs. Complex variations and patterns not only add to the elegance but also add depth to your interiors. The naturally occurring patterns add a much-needed connection to nature within your home, office, or commercial space.

Adaptability:

The versatility exists not only in the wide range of places you can fit granite but also in their polish. From honed, leathered, and polished, Impex granite can help your interior designers to choose the right granite slab for your project.

We can also enhance the look of the granite with customization and fabrication. Based on the material of the granite used, you can get a neutral look, strike a focal point, or uniquely highlight other elements.

Durable:

Absolute black granites have stronger heat resistance and are scratch and stain-proof. This makes granites absolutely the best choice to use in places that involve a lot of wear and tear, including kitchens and bathrooms.

Granite not only enhances your interiors but provides long-lasting solutions. Hence, granites are a practical choice while not compromising on the looks of your interiors!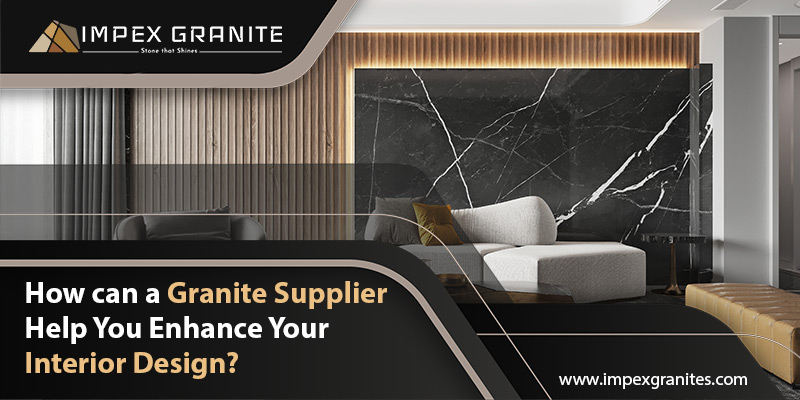 Value Investment:

Are you looking to increase the value of your property? Going for black granites will definitely help you achieve an overall increase in value. With the timeless appeal, durability, and low maintenance of black granites, it makes it a brilliant investment. As you can also attract buyers if you intend to sell it.

Natural:

Black granites are naturally occurring, mined from quarries by Impex Granite, absolute black granite suppliers. you get an environmentally friendly material for your interiors.

You already have an upper hand by using natural over synthetic materials. And, also help the environment by avoiding wastage, isn't that a huge win-win!

Availability:

In these times, with the help of an Impex Granite, you can place orders for granites in almost no time. With the abundance of granites available along with partnering with the right black granite suppliers, you will face any shortage.
How can a Granite Supplier Help You Enhance Your Interior Design?
Any interior design project involves multiple steps. When you opt for black granite in your interior design, it is ideal to provide your nova or absolute black granite with the proper details. One can get the required black granite details needed from interior designers.
Before implementing the project, the interior designers will develop the concept and plan the space with granites. Also, decide how black granites will interact with other elements and their design. Once the above planning is complete, you have the details pass on to the granite supplier.
Advantages of Choosing Impex Granite for Your Interior Needs
Once the granite suppliers have the details, they help the interior designer in the following manner:
Aligning the Design:

Impex Granite can help interior designers to align with the design concept. They help in choosing the right finish, and patterns to match the aesthetics of your interiors.

Selecting the Material:

It is important to choose the right type of black granite depending on where you want to incorporate them into your interiors. Impex Granite help you select the right type of granite for your floors, countertops, and so on.

Customization:

We customize black granites after extraction from the quarries. When you go to them with your designs, we fabricate the granite in accordance.

Installation:

Impex Granite provide guidance during installation. Be it to avoid installation complications, or instructions to handle the granites with installation techniques.

Quality Assurance:

Impex Granite adhere to industry standards while providing black granites. They can check the quality of granites before installation.
Various Applications & Orders of Black Granites
A granite supplier receives orders for a variety of their applications. Besides granite slabs and tiles, being used in flooring, or kitchen and bathroom countertops, here are a few other applications for granites:
A temperature-resistant wall for a wine cellar
Conference Tables & Office Desks for a sleek and classy ambiance
As Wall cladding Material & Wall Panels
Window Sills and display counters
Restaurant tables and room dividers within a hotel room.
In conclusion, the allure of black granite in interior design is undeniable. Its timeless elegance, durability, and versatility make it a perfect choice for enhancing the aesthetic and functionality of any space. Impex Granites stands as a beacon of quality, offering a stunning array of black granite options to elevate your design aspirations. Embrace the benefits of using black granite and let your interiors tell a story of sophistication that transcends trends.